Power Your Recruitment with WhatsApp + RoboRecruiter
Here at RoboRecruiter, outbound candidate engagement has always been a core focus of ours. We have made it easy to reach your candidates at scale via two simultaneous outbound channels, SMS and Email, reaching users at their preferred mobile or desktop devices. However, candidates are more and more frequently using additional platforms as a means to communicate over messaging, and we have taken note.
You asked, we listened: we are excited to announce that RoboRecruiter is now enabled with WhatsApp. WhatsApp provides a third outbound channel through which you can reach your candidates, increasing your open rates and improving the candidate experience for any WhatsApp users. WhatsApp is extremely popular across the UK and Europe, and we are seeing increasing usage here in the US as well. Trust us, we can't wait to better power your conversations and better serve some of WhatsApp's 2.5+ billion users.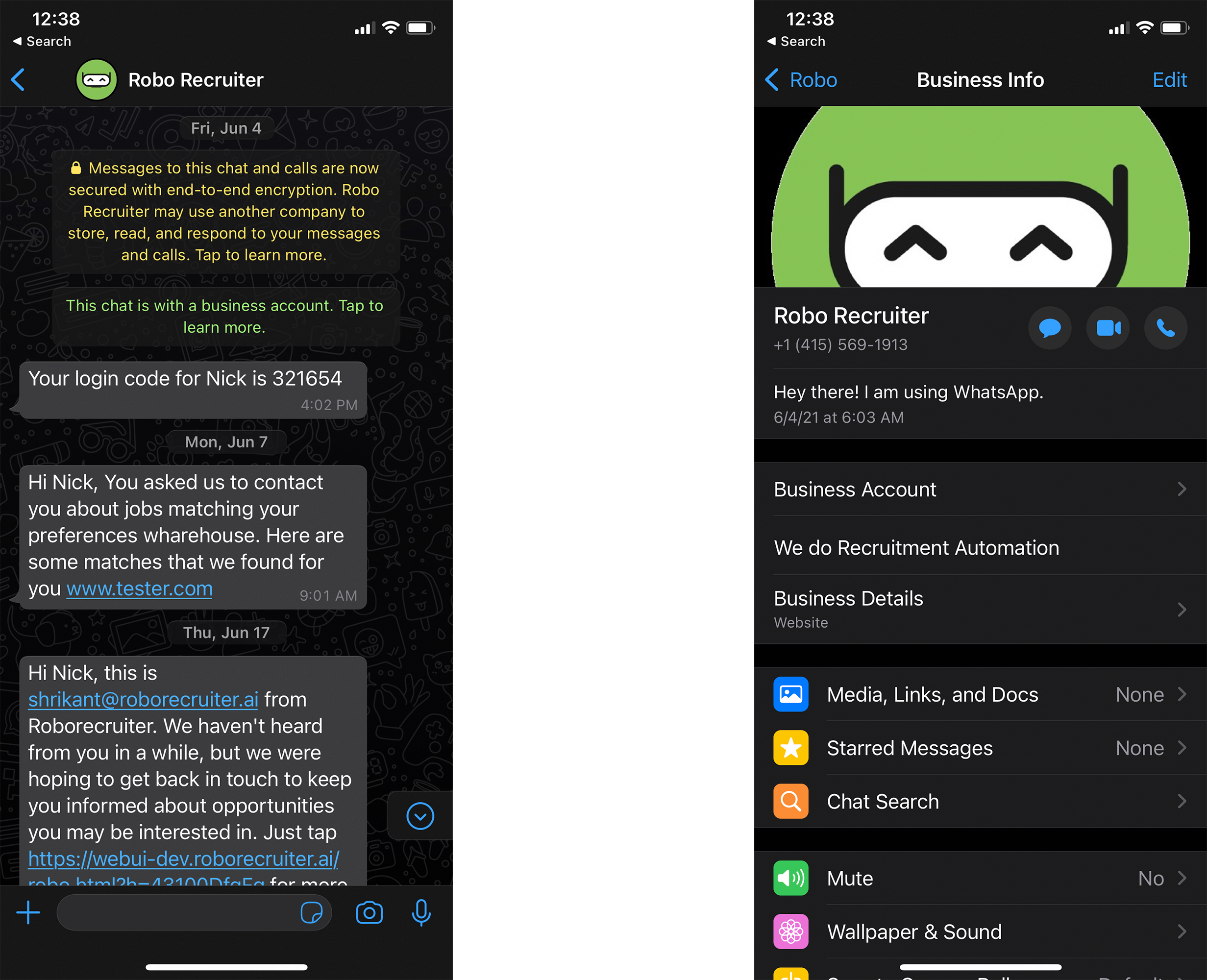 Interested in getting started? We're here to help. It all starts with your Facebook Business Profile, which links directly to your WhatsApp sender. This has the added benefit of bringing your branding and business contact information into the WhatsApp sender profile. WhatsApp permits sending outbound campaigns to consented users through pre-approved outreach templates, which we will assist in creating. Additionally, we can send any non-templated message as long as a candidate has replied to your WhatsApp message within the previous 24 hours.

This is where Robo Pulse comes into play - you can now use Pulse to instantly have 2-way WhatsApp conversations with your candidates. Unsure if you have consent to contact your candidates via WhatsApp? No problem - we have WhatsApp registration campaigns ready to go that will do just that - gather consent and automatically prepare your candidate data for WhatsApp messaging.
Integrating with WhatsApp has been in our sights for some time now, and we are very excited to be breaking this barrier. For information on getting started with RoboRecruiter + Whatsapp, just contact sales today.